Richard Mille RM 11-05 Automatic Flyback Chronograph GMT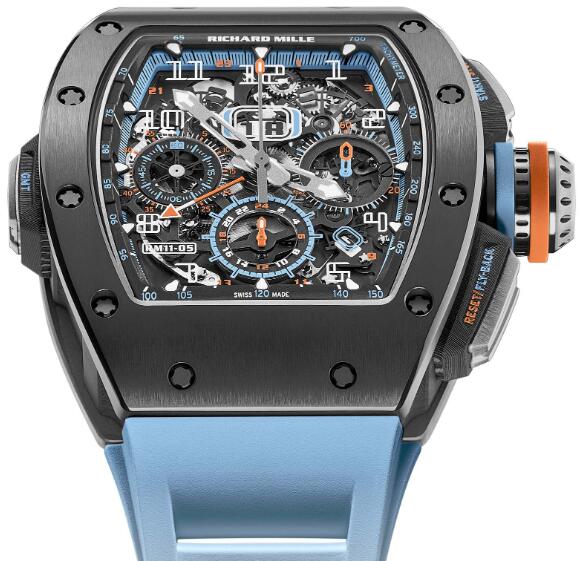 ·Gray Cermet, Richard Mille's new exclusive material
·The lightness of titanium matches the hardness of diamond
It really comes to the spirit of Richard Miller that gray cermets are the result of research carried out through the tireless brand, which is a relentless commitment to the creation of new materials in its creation. The exclusive Richard Mille watchmaking material combines the lightness of titanium with the hardness of diamonds.
The structure of the self-winding movement makes titanium metal proud. Its functions include the GMT display, with the help of a 9 o'clock fader, 24-hour flyback chronograph and annual calendar, which can be easily adjusted. The added grey cermet is suitable for the pure aerodynamic lines of the iconic case, with a size of 50 x 42.70 mm and a total thickness of 16.15 mm.
The unique gray color of cermets is due to the combination of metal zirconium base and high-performance ceramic blades. Its implementation needs to correspond to the rigor required to create the material itself. It is a challenge to heat and press very different kinds of materials together at high temperatures without changing their respective qualities.
Facts have proved that it is more difficult to obtain a uniform overall, because in order to comply with the REACH standard, the nickel and cobalt normally used in this hard material series are excluded, thereby ensuring the safety of the European chemical production and use industry.
After years of development, Richard Mille and IMI Group, which specializes in microtechnology, have removed these bad adhesives and only retained suitable materials. The innovative procedure used for this solution combines classic hot stamping with a series of powerful current pulses to improve sintering kinetics, a technique known as "rapid sintering". Cermet has a density of 4.1 g/cm3 (lower than titanium alloys) and a hardness of 2360 Vickers (almost the same as 2400 Vickers for diamonds), making it a sensible choice for a bezel that is very suitable for scratches while maintaining overall brightness. The physical properties of cermets are widely recognized, so they are often used in bulletproof protection, external aerospace fuselage components, and brakes for racing vehicles.ladies watches
The combination of carbon fiber TPT strap, grade 5 titanium back cover and grey cermet bezel can significantly reduce the weight of RM 11-05.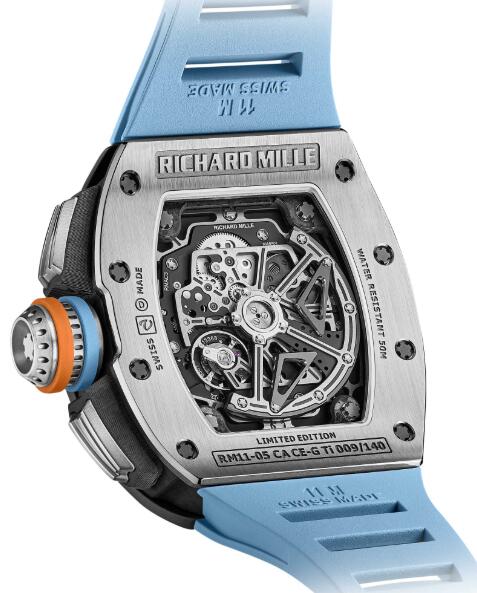 Technical index:
‍
RMAC3 movement: skeletonized self-winding movement, three o'clock, minutes, seconds, oversized date, month, flyback chronograph, minute hand and countdown timer at 9 o'clock, hour hand, 6 o'clock, GMT function and available Variable geometry rotor.
Case dimensions: 50.00 x 42.70 x 16.15 mm
main feature:
· Power reserve: about 50 hours (±10%). The actual power reserve result will depend on the usage time of the timer.
· Bottom plate and bridge plate: made of grade 5 titanium
· Flyback Chronograph
· Countdown: The pointer at 9 o'clock is replaced by a disc with a skeleton engraved for 60 minutes. The user can read the elapsed minutes or the remaining minutes.
· GMT function: RM 11-05 has a GMT pointer and is equipped with Super-LumiNova. It can be easily adjusted using the 9 o'clock button.
· Large date display: semi-instantaneous, located in the red outline horizontal aperture at 12 o'clock, can be automatically adjusted for 30 or 31 days.
· Monthly display: Semi-instantaneous display of Arabic numerals between 4 o'clock and 5 o'clock.
· Free spring balance with variable inertia
· Variable geometry rotor
· Double barrel system
· Grade 5 titanium spline screws for movement and case
‍
Other features:
· Movement size: 30.25 x 38.45 mm
· Thickness: 9.00 mm
· Jewelry: 68
· Arbor: AP 20 steel
· Balance: Glucydur, 4-arm, rotational inertia 4.8 mg•cm2, elevation angle 53o
· Frequency: 28,800 vph (4 Hz)
· Hairspring: Nivarox's elinvar
· Index component: Triovis n°2
· Shockproof: INCABLOC 908.22.211.100 (transparent)
· Escape Wheel Jewelry: Rubifix (transparent)
· Three-position winding handle: manual winding, date adjustment, manual setting
case:
The front bezel is gray cermet, the strap is carbon TPT, and the case back is grade 5 titanium.
Richard Mille (Richard Mille) is a brand new material exclusive to the watchmaking industry. The gray cermet combines the lightness of titanium with the hardness of ceramics. It is composed of a metal zirconium base related to high-performance ceramics, giving the material a single gray color. The production process is as extreme as the material itself. It is not easy to heat and form this different material together at high temperature without doping their respective qualities and obtain a homogeneous material, and because the composition avoids the usual hard material family The use of nickel and cobalt is therefore more difficult. The material fully complies with the REACH standard. After years of development in specialized laboratories, Richard Mille and Groupe IMI have successfully eliminated these unwanted adhesives, thanks to an innovative process that combines traditional hot stamping with a series of high-voltage current bursts, thus Only the required materials are retained, so that the sintering kinetics can be enhanced. This technique is called rapid sintering.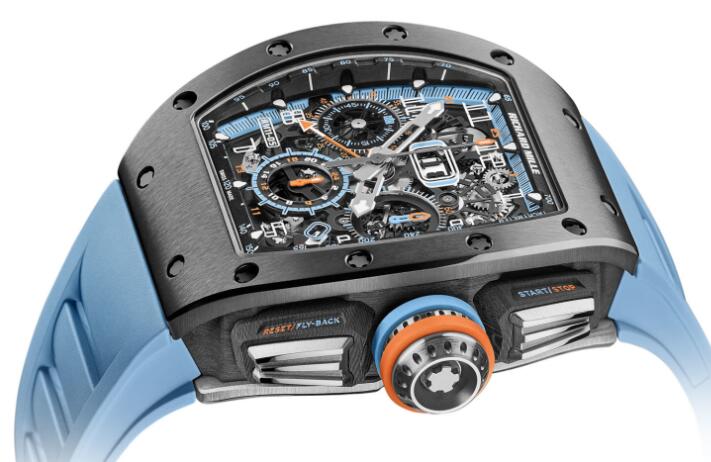 The physical properties of cermets are widely recognized, so they are often used in ballistic protection and aerospace for reentry into space shuttle components, external fuselage components, and brakes for racing vehicles. The mass-to-volume ratio of cermet is 4.1 g/cm3, and the hardness is 2360 Vickers hardness, which is comparable to other high-performance ceramics. It is very suitable for bezels. The area is extremely easy to scratch, while ensuring the entire assembly is lightweight and lightweight.
The bezel is fixed on a strap made of carbon TPT, which also helps to reduce the total weight. This high-tech material consists of 600 layers of parallel filaments, which are obtained by separating carbon fibers. The layer with a thickness not exceeding 30 microns is impregnated with a black matrix. They are then assembled on a dedicated machine that stacks the layers together, changing the direction between the fibers by 45°. The composite material is then heated in a kiln at a pressure of 6 bar to 120°C, similar to the kiln used to manufacture aerospace parts, and then ready to be machined at Richard Mille. The bottom cover is grade 5 titanium. The combination of these materials helps to significantly reduce the weight of the swiss watch men.
With the help of two Nitrile O-rings, the entire housing structure is water resistant to 50 meters and is installed in grade 5 titanium alloy and 316L stainless steel washers using 20 spline screws.
Flange: Carbon fiber filled with approved luminescent material.
Crown: Grade 5 titanium, micro-blasted by Alcryn double-seal O-ring and collar.
Dial: Sapphire (thickness: 0.40 mm), anti-glare treatment (2 sides), and protected by 8 silicon brackets inserted in the upper and lower flange grooves.
crystal:
·Frame surface: Sapphire (1800 Vickers hardness) with anti-glare treatment (2 sides). Thickness: 1.50mm
·Bottom cover: Sapphire with anti-glare treatment (2 sides). Thickness: 1.20 mm in the center, 2.04 mm in the outer edge
finishing:
movement:
·Titanium base plate and bridge, wet blasting treatment, PVD treatment
·Hand polishing and polishing
·The locking part is polished by hand
·Polished pivot
·Diamond sink
·Pinion with undercut
·Sandblasted and rhodium-plated helical gears
Steel parts:
·Sapphire sandblasted surface
·Hand polishing and polishing
·Screw groove and screw bevel polishing, rounded and polished tip
wheel:
·Chamfering and chamfering with diamond tools
·Round decorative surface
· Rhodium plating (before cutting teeth)
·Minimized wheel corrections to maintain geometry and performance