Greubel Forsey – GMT Balancier Convex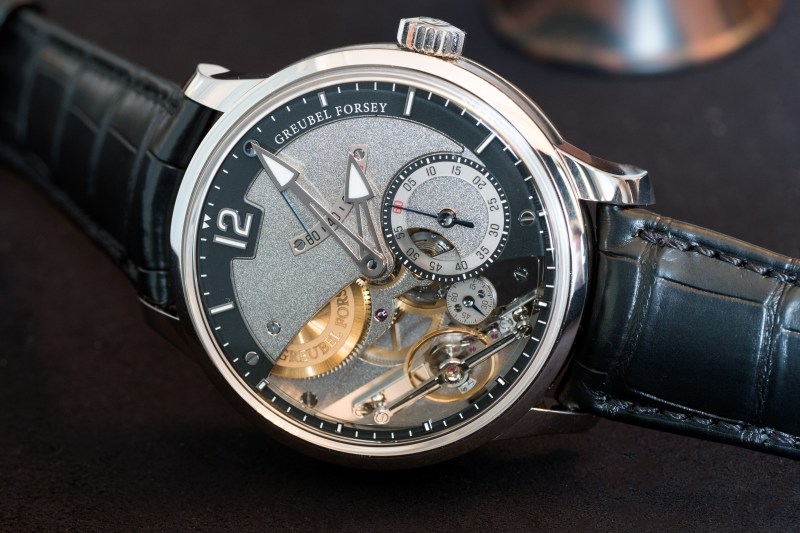 With the GMT Balancier Convex, Greubel Forsey debuts an all-new GMT movement, replacing all previous GMT models and functions, and featuring the iconic inclined balance wheel for the first time.
The striking titanium sphere—along with its continents, seas and oceans—is at the center of the amphitheater-like building. Flush with the sapphire crystal and almost touching the surface, it rotates in uninterrupted 24-hour motion, just like the earth spins in real life.
This amphitheater is bordered by three rings representing two complementary times: hours and minutes in local time, and world time.
If the indicated time is at night, the 24 time zones showing Universal Time are set with a black background, and during the day with a white background.
Local time is displayed on two bezels: one for the hours on a grey satin bezel and one for the minutes on a thin black bezel. Each time indication has its own hand with a red triangular tip filled with luminous material. These hands move on two other rings and are engraved with the studio's cherished key words to show GMT.
Finally, an off-centre display at 10 o'clock indicates the second time zone with blue-gold hands.
For the caseback of the timepiece, Greubel Forsey fake has kept the disc with 24 time zones indicating the UTC time of the 24 reference cities, with one change: UTC in Paris has been set by Greubel Forsey since its inception replaced by cities. Foundation: La Chaux-de-Fonds, Switzerland.
The 30° inclined balance at 7 o'clock is held by a beautiful flat black polished and barrel polished steel balance bridge on a polished steel column. On its right, the small seconds hand displayed by a blue-gold hand completes the whole.
The titanium bridges serve as the aesthetic backdrop for this extraordinary combination, hand-finished with a steel brush to give Greubel Forsey a matte finish never seen before. Delicate matte surfaces capture light and accentuate the earth.
The iconic convex case is made of titanium with a diameter of 46.5mm around the bezel and 43.5mm around the strap. Height including synthetic sapphire crystal is 17.40mm.
The cheap watch is water resistant to 10 ATM (100 meters/330 feet) and comes with a textured rubber strap or a titanium 3-row metal bracelet.