U-BOAT CHIMERA 48 CARBONIO GMT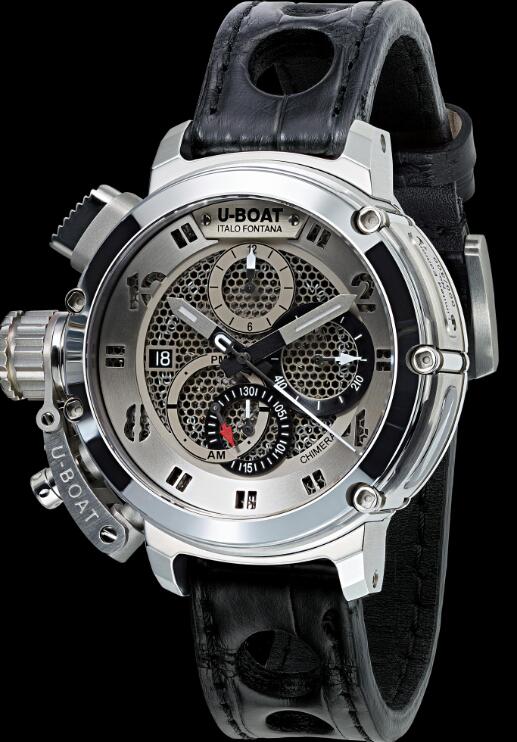 Italo Fontana, the creator of U-BOAT fake watches, uses classic steel and higher-tech magnesium, as well as bronze, gold, silver and ceramics to make outstanding timepieces. The latest U-BOAT Chimera uses a new case material that uses forged carbon fiber used in the aviation industry to make it extremely resistant, but surprisingly light in weight. The way the fibers are placed in the case mold makes each watch unique.
The case has a marble appearance. Each watch is unique because the carbon fiber is distributed in the mold in a random manner. When the material is compressed under heating, it will be released in unpredictable ways. This watch is combined with a distressed calfskin strap hand-crafted using traditional craftsmanship and has the complication of GMT.
U-BOAT CHIMERA series
The U-Boat CHIMERA series offers a variety of beautiful automatic mechanical timepieces: only time, date, chronograph and Greenwich Mean Time. CHIMERA timepieces have different case materials and sizes, and are available in jewellery versions set with diamonds or semi-precious stones. A major feature of these timepieces is the innovative steel crown release system (patented), located at the 8 o'clock position, can easily set the time and date.
U-Boat CHIMERA B&B Limited Edition
46 mm-reference. 6946
mobile
Top Soigné with black screws, rhodium-plated, personalized automatic mechanical chronograph, U-shaped boat specification date display and valve stem is positioned at 9 o'clock
Frequency: 28.800 vibrations per hour, 4 Hz
Power reserve: 44 hours
25 jewels
Height: 7 mm
Features
Hours, minutes, small seconds, chronograph 60 seconds, counter 30 minutes and 12 hours
9 o'clock date window
shell
Bronze, natural aging and AISI 316 Plus stainless steel, followed by PVD coating treatment,
46mm, 54mm, 60mm in diameter, including external crown debris
. The bezel and the back of the case are locked together by an external pipe and a custom key. Absolute waterproof performance
Large cup-shaped crown, easy to operate, fixed on the mainspring at 9 o'clock
. Steel crown, heat-treated
Chrono fader screwed into the clockwork
Box, outer tube and screws, winding protection device crown, timing button frame and bronze serial number plate, natural aging.
Case, bezel, chronograph button, hook pin, plate screw, strap fixing screw with AISI 316 Plus steel, PVD coating
Personalized rotor, silver, 3-bridge structure, rhodium-plated and secured with blue screws.
thickness:
18, 10 mm weight: about 186 grams
Crystal: Bronze glass, curved sapphire surface, flat crystal on the back of the fake watch, double gasket seal
Water resistance: 100 meters, 10 ATM
dial
Two overlapping dials, one is treated with composite paint and laser cut on the counter and hours, the other is made in matt bronze, polished, cut and printed in azure on the small seconds and minute counter
pointer
The hour and minute hands are laser-cut pointers, brushed on the surface, and hand-painted the central joint.
Strap
Hand-made and hand-refined calfskin, carefully selected and processed according to the traditional manual craftsmanship of the 1800s, giving the strap a natural distressed feel and appearance
Tongue steel buckle, followed by PVD opaque black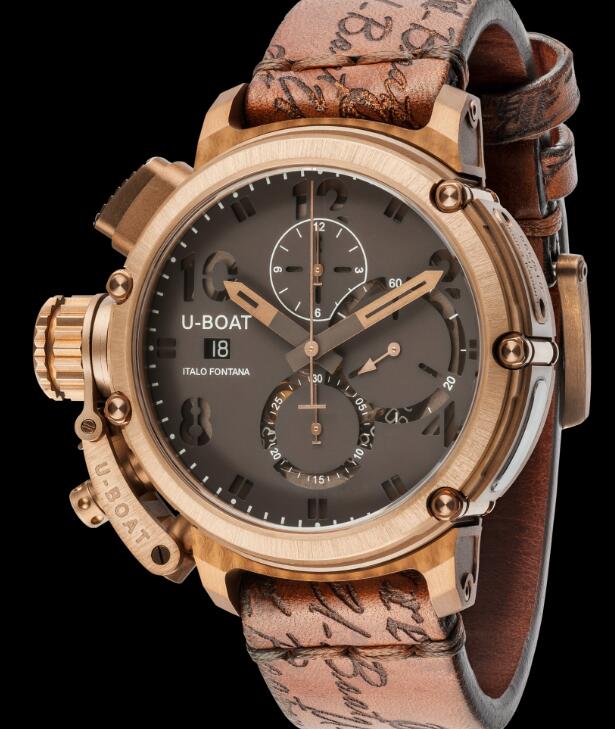 U-shaped ship CHIMERA 48 CARBONIO 48 mm-Ref. 7177
A movement that complies with U-Boat specifications. GMT automatic mechanical chronograph for date display and
Dial, located at 9 o'clock in the second time zone Frequency: 28.800 vibrations per hour, 4 Hz
Power reserve: 48 hours
25 jewels
Height: 7.9 mm
Features
Hours, minutes, small seconds, chronograph 60 seconds, counters 30 minutes and 12 hours. 24 hour hand with time zone mechanism
Date window at 9 o'clock
Watch case
48 mm in diameter
Case, bottom case, forged carbon
The bezel is made of high strength and light weight. Crystal: sapphire curved glass surface and flat back of the timepiece
Water resistance: 50 mt, 5 ATM
dial
Two overlapping dials, baton hands, treated by superluminova
Strap
Hand-made and hand-refined calfskin, carefully selected and processed in accordance with traditional manual craftsmanship, give the strap a natural look and feel
Titanium alloy tongue buckle
U-boat CHIMERA 48
925ø48 mm-reference. 7108ø48
Mm-reference. 7115ø48
Mm-reference. 7107
movement
Soigné with black screw top, rhodium-plated, automatic mechanical chronograph personalization, U-boat specification date display and valve stem is positioned at 9 o'clock
Frequency: 28.800 vibrations per hour, 4 Hz
Power reserve: 48 hours
25 jewels
Height: 7 mm
Features
Hours, minutes, small seconds, chronograph 60 seconds, counter 30 minutes and 12 hours
9 o'clock date window
Watch case
925 sterling silver, double surface treatment (gloss and matt)
Perform 5 micron silver plating on the entire case, and then
Screw in nickel rhodium-plated nickel with rhodium (without 1 micron crown) on the left side, with special protection device
Diameter: 48 mm; diameter 58 mm (including external crown debris)
Case silver weight: about 146 grams
, Silver, personalized rotor with base and 3 bridges fixed with blue screws
Crystal: Sapphire curved glass, the back of the timepiece is flat,
Water resistance: 50 meters, 5 ATM
dial
Two superimposed dials, batons
Watch strap,
Hand-made and hand-finished crocodile leather for ref 7108. Black leather with dark brown crocodile leather, square scale and silver tongue buckle.
For ref 7115 and 7107 hand-made and hand-finished calfskin, after careful selection and processing, the strap has a natural distressed feel and appearance
Tongue Silver Buckle
U-shaped ship CHIMERA 46 SIDEVIEW ø46mm-reference. 7224
Movement
Top Soigné black screws, rhodium-plated, automatic mechanical chronograph, personalized according to U-Boat specifications, for date display, and the axis of the replica watch at 9 o'clock
Frequency: 28.800 vibrations per hour, 4 Hz
Power reserve: 48 hours
25 jewels
Height: 7 mm
Features
Hours, minutes, small seconds, chronograph 60 seconds, counter 30 minutes and 12 hours
9 o'clock date window
Situation
AISI 316 plus stainless steel
46 mm diameter, 54,50 mm diameter including external crown clutter
The bezel and the back of the box are locked together by an external tube and a customized key to ensure absolute water resistance
Personalized rotor, in silver, with base and 3 bridges fixed with blue screws. A case with side windows, with sapphire glass to observe the movement,
Crystal: the front of the dial is sapphire curved glass, while the back is flat
Water resistance: 100 meters, 10 ATM
dial
Two overlapping dials, hands and hands treated with superluminova
Strap
Hand-made and hand-finished alligator leather, black, with 3 circular cuts
Width: 20/20mm
Tongue steel buckle, hypoallergenic and color retention
U-shaped ship CHIMERA 46 SIDEVIEW DIAMONDS ø46mm-reference. 7130
mobile
Top Soigné with black screws, rhodium-plated, personalized automatic mechanical chronograph, U-shaped boat specification date display and valve stem is positioned at 9 o'clock
Frequency: 28.800 vibrations per hour, 4 Hz
Power reserve: 48 hours
25 jewels
Height: 7mm
Features
Hours, minutes, small seconds, chronograph 60 seconds, counter 30 minutes and 12 hours
Date window at 9 o'clock
Case
AISI 316 Plus stainless steel, diameter 46 mm
The frame of the gun body, the timing button, and the pins of the hook are all treated with black PVD. Personalized rotor, in silver, 3 bridge construction, rhodium-plated and fixed with blue screws
In the frame of the shell and in the lugs, 309 black diamonds have been manually set, one by one (reverse the diamonds in the lug)
Case, a side glass window, sapphire glass with observable movement,
Crystal: The curved sapphire glass surface of the watch mirror and the back of the timepiece are flat, and both have
Water resistance: 100 meters, 10 ATM
dial
Two overlapping dials, hands and hands treated with superluminova
Strap
Hand-made and hand-finished alligator leather, black, with 3 round cuts
Width: 20/20mm, anti-allergic and color retention treatment
Tongue steel buckle with 16 black diamonds on the side of the buckle
U-shaped ship CHIMERA 46 SIDEVIEW GOLDø46mm-ref. 7225
mobile
Top Soigné with black screws, rhodium-plated, personalized automatic mechanical chronograph, U-shaped boat specification date display and valve stem is positioned at 9 o'clock
Frequency: 28.800 vibrations per hour, 4 Hz
Power reserve: 48 hours
25 jewels
Height: 7 mm
Features
Hours, minutes, small seconds, chronograph 60 seconds, counter 30 minutes and 12 hours
9 o'clock date window
Watch case
AISI 316 Plus stainless steel and rose gold 2N 18 K, diameter 46 mm, five-piece construction
The outer frame and the back of the case are locked together by an external pipe and a custom key to ensure absolute waterproof
Personalized rotor, silver, rhodium treatment, two-color treatment, with base and 3 bridges fixed by blue screws
Rose gold components: bezel, case tube and screws, case corners, hooks, cup lid, chronograph button, serial number plate
Total gold 54, 4 gr
Case with side windows, sapphire glass with observable movement
Crystal: The curved sapphire glass surface and the back of the timepiece are flat, and both sides are oil-resistant
Performance: 100 meters, 10 ATM
dial
Two overlapping dials, hands and hands treated with superluminova
Strap
Hand-made and hand-finished crocodile leather, black, with 3 circular cuts, hypoallergenic and color retention
Width: 20/20 mm
Tongue steel buckle